Tacos Al Pastor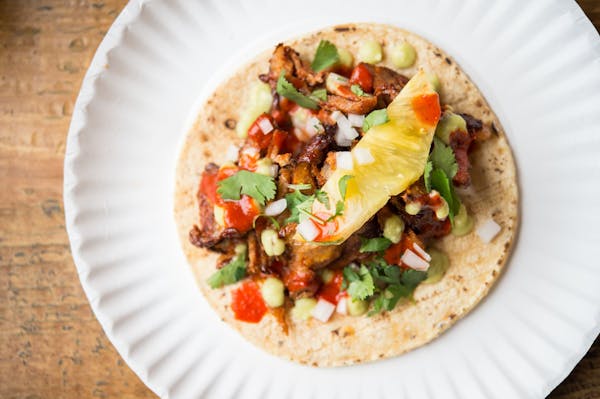 This is my favorite taco, so much so that I opened a bar in its name.
Al pastor is the undisputed king of tacos, its deliciousness and the theatricality of making it. Among the reasons it holds this place in my heart is the irony of it.
In Mexican cuisine, words like tradition and authenticity always seem inescapable. Yet al pastor challenges that position, given that this beloved, shining symbol of Mexican food has its origins in Middle Eastern doner kebab (lamb shawarma). It's wonderfully symbolic of the confluent nature of this cuisine.
Pork shoulder is sliced into quarter-inch steaks and rubbed with a thick dense chili paste called adobo. The marinated steaks are then impaled to form a meat sculpture called a trompo (spinning top), wide at the top and narrower at the bottom. This rotating trompo of meat gets spit roasted, and thin shavings of pork are taken off and placed upon a fresh tortilla. We add onion, cilantro, salsa, and pineapple.
If I could only eat one taco for the rest of my lifer, this is the one.
-Chef Alex Stupak
Available at Empellón Al Pastor (132 St. Marks Place)
Photo by Evan Sung