Corn Dog With Huitlacoche Mustard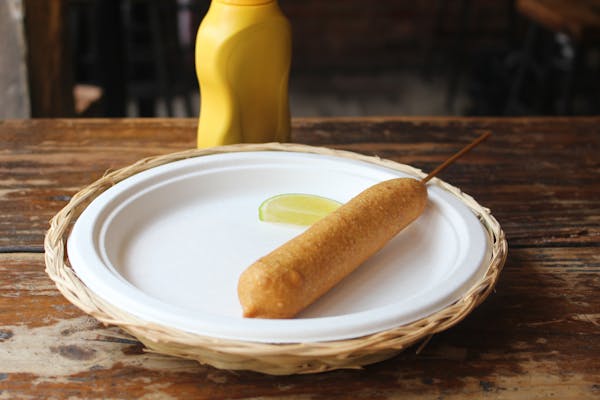 Our approach to developing the bar snacks menu here followed one key thought exercise: draw inspiration from Mexican cuisine and find the "us" in it. Case in point: the corn dog.
A corn dog is, in its most basic form, a hot dog impaled and dipped in cornmeal batter before frying. So to take that formula and modify it to make the dish more Mexican, that made it immediately more interesting to us.
The first differentiation here, then, is that we enrobe it in our Oaxacan corn masa. Next, it felt right to look at condiments, specifically mustard. Ours is flavored heavily with huitlacoche (corn fungus). The blackness of this ingredient prompted us to add an element of shock value in the delivery.
The huitlacoche stains the mustard, so we bought iconic yellow mustard bottles, scraped off the labels, and filled them with our much darker mixture. The bottle gives off this expectation of a yellow condiment, but something dark and menacing comes out of the bottle instead.
We end up with a corn-based bar snack with a corn-based condiment, which felt kind of clever and even intellectual in execution. It also demonstrates our sick sense of humor.
-Chef Alex Stupak
Available at Empellón Al Pastor (132 St. Marks Place)
Photo by Evan Sung