Coconut Bonbons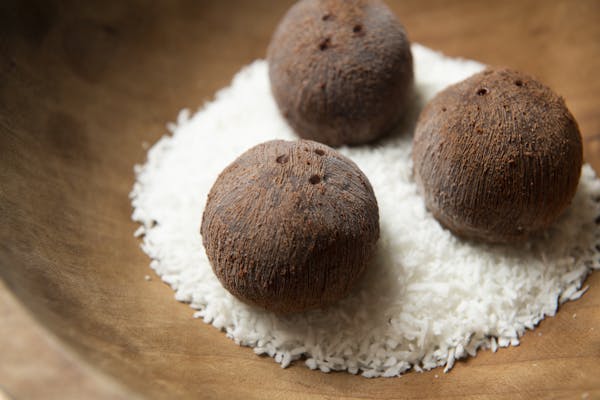 Coconut and rum is a no-brainer combination. We worked those classic flavors into adorable little coconut bonbons which makes them immediately special.
What makes them even more special comes from the rum we selected. Paranubes is unusual in that it is rum produced in Oaxaca, its flavor distinct with notes of black olives that linger after the initial blast of raw molasses.
The approach to making these bonbons was unorthodox as well. Coconut milk was aerated and stabilized with iota carrageenan, a natural hydrocolloid. Next we formed spheres, hollowed them out, and filled them in with a caramel made entirely from heavily reduced coconut milk and rum.
Though it was not our goal, these treats are incidentally vegan.
-Chef Alex Stupak
Available at Empellón (510 Madison Ave.)
Photo by Evan Sung