Cheeseburger Tacos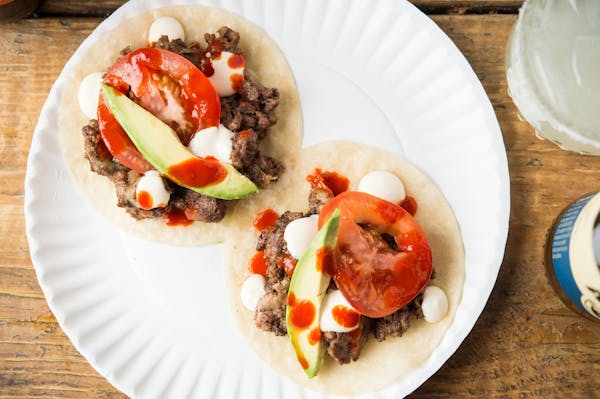 While I was on a trip to Mexico City to research tacos al pastor, I visited a famous taqueria called El Rey Del Taco. They're rightfully known for their al pastor, but I noticed there was something called a cheeseburger taco on the menu as well. With my curiosity piqued and in need of a break from eating porcine taco after porcine taco, I had to have one.
After ordering, I watched the taquero work. First, he put a thin burger patty on griddle along with what looked like double its weight in shredded cheese. He then began to whack at the patty and the cheese with the broad side of his spatula, mixing them into amorphous mass on the griddle, kind of like how they fold toppings into the ice cream at Cold Stone Creamery. Next, he heaped this mixture atop a tortilla with room temperature McCormick mayonnaise, a tomato slice, and avocado. It must've been 1200 calories.
Beyond being super delicious, the cheeseburger taco was immediately and intellectually fascinating. As Americans, we often see Mexican cuisine absorbed into the fold. Something quintessentially American like a cheeseburger going the other direction was less common and cool to see. It didn't taste American, but rather somehow completely Mexican. Moreover, its very existence prods at the notions of authenticity surrounding the Mexican culinary conversation.
Naturally, we had to add one to our menu.
-Chef Alex Stupak
Available at Empellón Al Pastor (132 St. Marks Place)
Photo by Evan Sung