Chalupa With Red Chile Pork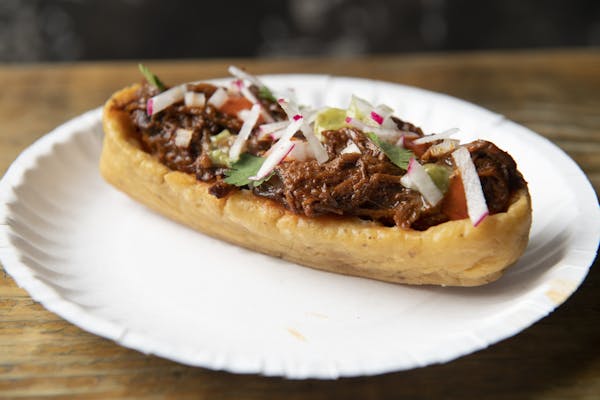 Individually and as a whole, the bar snacks at Empellón Al Pastor exist as a kind of mash-up, with American culinary concepts informed by and heavily riddled with Mexican flavors.
This dish, however, rebels against that menu concept, which is true to the spirit of our East Village dive bar. For juxtaposition purposes, we wanted have something straight up, undeniably Mexican in this mix of food options. We liked the idea of making that item a chalupa, because the word has been so misused and bastardized in American pop culture.
The word chalupa means cottage, essentially to house something. But you can see what America does to that, making it crunchier and altogether too big. Stripped of that supersized approach, a chalupa is just a lovely two bite antojito, akin to a canoe-shaped sope.
Making trompos for al pastor tacos leaves us with some really good pork scrap every day. That side effect becomes an opportunity here, as we have delicious meat to stew and deploy in these chalupas.
-Chef Alex Stupak
Available at Empellón Al Pastor (132 St. Marks Place)
Photo by Evan Sung