Breakfast Burrito With Modified Valentina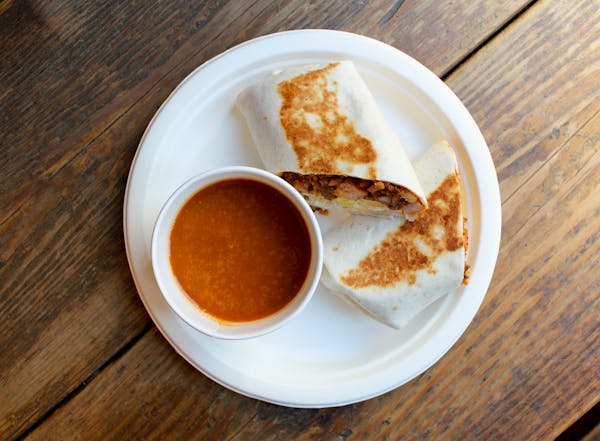 Both personally and as a chef, I'm not a fan of burritos.
Among my grievances with this admittedly popular dish is that they've gotten too big. Size matters, and there are benefits to going smaller. The ends of the burrito are the best bites, as the right amount of filling squeezes into the crevices and folds inside this tight little bundle.
At Al Pastor, we're always trying to actualize this fever dream of late night snacking. So the breakfast burrito here comes from that, this thing we imagined people might make at home at 3:00AM after a night out. We reached for items available in the barest of NYC pantries—shredded cheese, flour tortilla, beans, hot sauce. Burritas, the burrito's Sonoran precursor, proved influential, the relatively more compact size justifying our choices.
Our modified Valentina is essentially a roasted tomato soup with way too much hot sauce added and served in large cup to dip the burrito into it. This lets you control your own "wet" burrito experience.
Additionally, I just like the idea of offering a breakfast burrito in a place where we never intend to serve breakfast.
-Chef Alex Stupak
Available at Empellón Al Pastor (132 St. Marks Place)
Photo by Evan Sung