Achiote Hot Wings With Edam Cheese Dip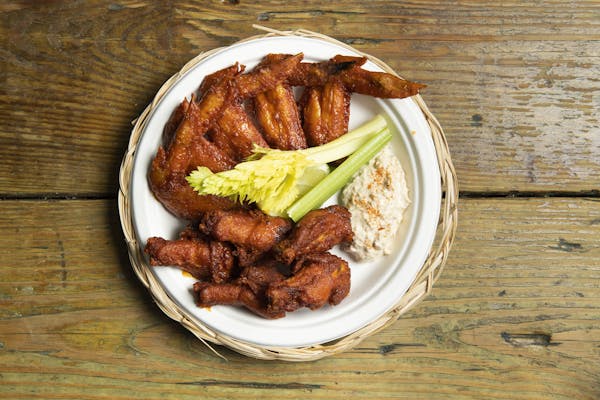 To put our spin on buffalo wings, that ubiquitous bar snack, the first thing we did was rethink the vinegary sauce.
We reached for achiote as a means to stain our wings this really rusty red color. More commonly known in the U.S. as annatto, achiote seeds are most often used in this country for food coloring. But in Mexican cooking, particularly in the Yucatán, it serves as a flavor component in a number of dishes, including cochinita pibil. This contrast appealed to us in devising these hot wings.
Normally when there are buffalo wings, blue cheese is never far behind. But I've never fully understood its purpose. Is it a dip for the celery? A secondary condiment to drizzle atop already dressed wings? So we sought to address this persistent pairing in our own way, which led us to Edam cheese.
There's a unusual cultural reason for using Edam cheese, which features in many "traditional" recipes in Yucatecan kitchen. Historically, the Dutch Navy did a lot of trade in the region. The former had the biggest navy in world, while the latter had some of the strongest rope in the world thanks to sisal trees. Combined with the aforementioned achiote, Edam seemed a logical blue cheese substitution.
Rather than serve it a dressing, we drew inspiration from a very American recipe: pimento cheese. We modified that combination of shredded American cheese, mayonnaise, and chopped pimentos by subbing in Edam and habaneros, the king of the Yucatecan chiles
We're never gonna serve traditional hot wings or traditional Yucatecan food here at Al Pastor, but we find these mind-mapping exercises that mash up the two incredibly gratifying.
-Chef Alex Stupak
Available at Empellón Al Pastor (132 St. Marks Place)
Photo by Evan Sung